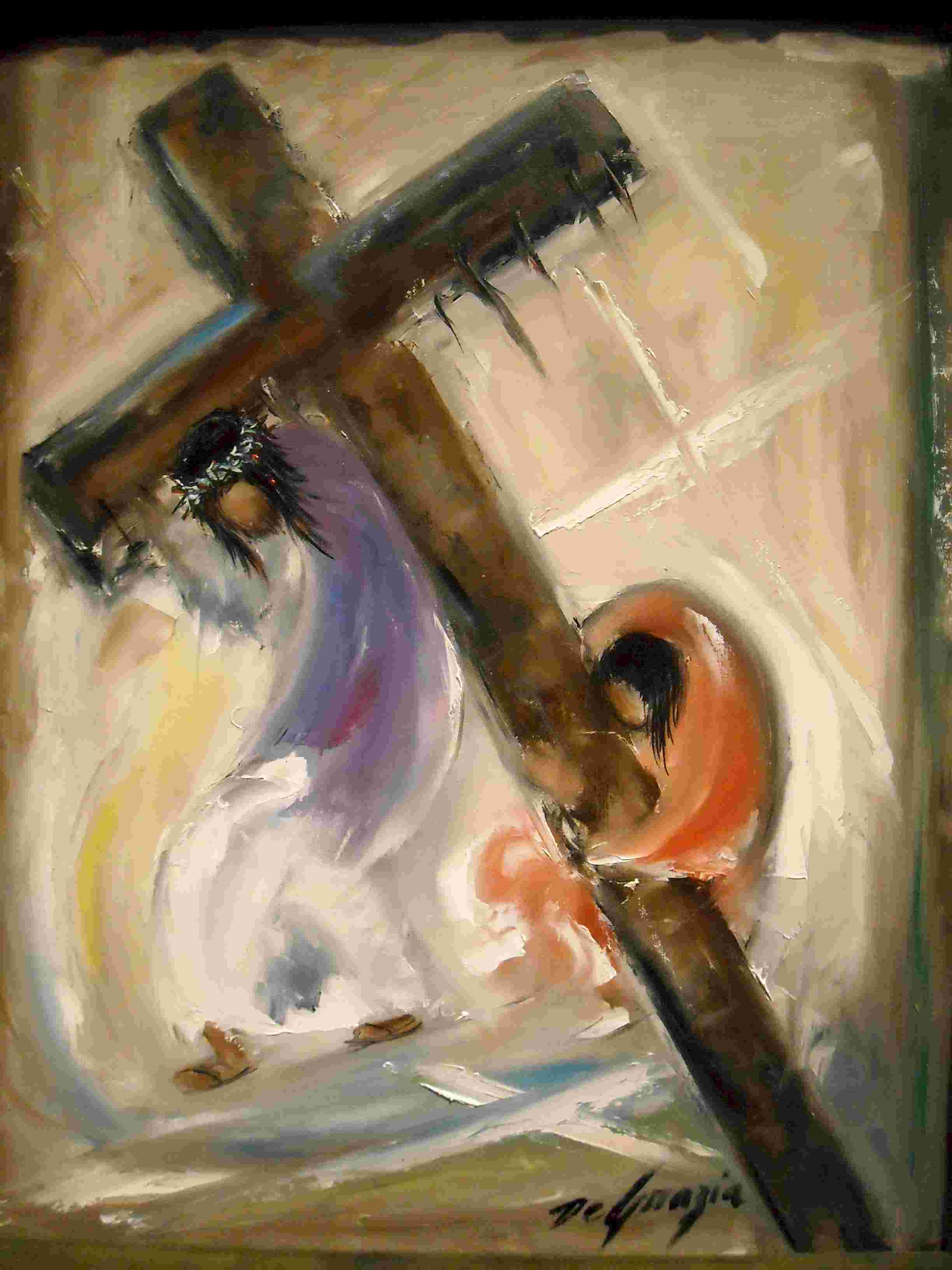 JMJT! Praise be Jesus Christ! Now and Forever!
Suffering is definitely a word most people want to erase from their consciousness and their vocabulary, especially when describing one's own life or those dear to us. Yet, we all know that life entails suffering and it is inevitable. People can have all sorts of material possessions, seemingly glamorous lives, or live in beautiful surroundings, but are still unable to escape the reality of being crushed in some way by life's circumstances, by the unexpected. Suffering finds us all, regardless of wealth, status, genetics, connections, faith, race, nationality, gender, etc. And suffering is unique to each individual and comes in a myriad of forms.
Fortunately, Christians have been given a roadmap for how to embrace suffering and behave in such moments. Jesus tells us, "If anyone would come after me, let him deny himself and take up his cross and follow me.

25

For whoever would save his life[a] will lose it, but whoever loses his life for my sake will find it.

26

For what will it profit a man if he gains the whole world and forfeits his soul? Or what shall a man give in return for his soul?"
[Mt 16:24-26]
Jesus guarantees suffering in this life, but also promises eternal reward. St. Peter explains it further in his First Letter, "
For you have been called for this purpose, since Christ also suffered for you, leaving you an example for you to follow in His steps." [1 Peter 2:21]
Yet, when push comes to shove, when we find ourselves suffering due to grief and loss, physical and/or emotional pain, mental or physical illness, loneliness, unemployment, dysfunctional relationships, etc. it can be hard to know how to proceed and succeed in our call to carry our Cross. For me, I have had some time these past few months to ponder the true meaning of this call and believe that the saints who have walked the journey before us, give us the blueprint to suffering gracefully and joyfully.
I turn to the most recent saint in our Church, St. Mother Teresa of Calcutta, who suffered spiritually, physically, and emotionally for nearly 50 years. She saw such abject poverty and rejection of those dying in the streets. She experienced all of these scourges herself in so many ways in the dark night of her soul, in her own poverty, and the constant need to beg for the needs of her sisters and her patients. Yet, she never gave up and saw suffering as a great gift from God. S
he tells us,
Today the passion of Christ is being relived in the lives of those who suffer.
To accept that suffering is a gift of God.
Suffering is not a punishment. God does not punish
.
Suffering is a gift—--though, like all gifts, it depends on how we receive it.

And that is why we need a pure heart---to see the hand of God, to feel the hand of God, to recognize the gift of God in our suffering.
Suffering is not a punishment. Jesus does not punish
.
Suffering is a sign—--a sign that we have come so close to Jesus on the cross, that He can kiss us, show that He is in love with us,
by giving us an opportunity to share in His passion.
Christ came to share in our suffering. Christ allows us to share in His suffering. Whatever we suffer He has suffered. He understands our suffering. And our suffering that is shared with the innocent suffering of Christ on the Cross is a gift of God.
How is our suffering a gift of God?
Suffering becomes a gift when we have the courage to accept whatever God allows, permits, sends or gives with a smile. When we can still smile through our suffering, it means that Christ is still with us. And we do not become frustrated, resentful, angry and/or bitter. That is a gift of God.
It is also a blessing because our trust in Christ and our patient endurance of suffering encourage others to face and accept with courage their own suffering with Christ. We need to remember that when we share in Christ's suffering we also share in His glory. So, we must never allow our suffering to fill us with so much sorrow and bitterness as to make us forget the joy of the risen Christ. Indeed, suffering can become a means to greater love, greater empathy and greater generosity.
She offers more insights into how to suffer illness or desolation: "
Those of you who are sick, when things are hard, take refuge in Christ's heart. There my own heart will find with you strength and love."
"Suffering will never be completely absent from our lives. So don't be afraid of suffering. Your suffering is a great means of love, if you make use of it, especially if you offer it for peace in the world. Suffering in and of itself is useless, but suffering that is shared with the passion of Christ is a wonderful gift and a sign of love. Christ's suffering proved to be a gift, the greatest gift of love, because through his suffering our sins were atoned for. Suffering, pains sorrow, humiliation, feelings of loneliness, are nothing but the kiss of Jesus, a sign that you have come so close that He can kiss you."
"At the moment of death, we will not be judged by the amount of work we have done but by the weight of love we have put into our work. This love should flow from self—sacrifice and it must be felt to the point of hurting."
Surrender is true love. The more we surrender, the more we love God and souls.
If we really love souls, we must be ready to take their place, to take their sins upon us and expiate them. We must be living holocausts, for the souls need us as such.
(The Love of Christ: Spiritual Counsels, Mother Teresa of Calcutta, 103).
"The important thing, is not to waste suffering. Join it to the suffering of Christ; offer it up with his suffering. Don't waste suffering ."
To recap the wisdom of St. Mother Teresa of Calcutta, we must remember the following in the midst of sufferings:
1. Recognize suffering as a gift;
2. Accept whatever God allows or sends to us with a smile;
3. Take refuge in Christ's heart;
4. Do not waste suffering, but surrender to it;
5. Give of self to the point of hurting - take the place of others
May it be so. St. Mother Teresa of Calcutta, pray for us!