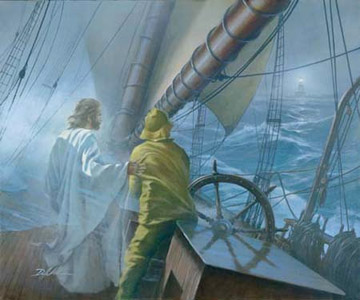 JMJT! Praise be Jesus Christ! Now and Forever!
In the past month, I have attended three funerals, one wedding, three birthday parties, and a clothing ceremony for a sister beginning her Novitiate with the Carmelite Missionary Sisters of St. Therese. Talk about events of contrast...Some of these happenings were planned, and others were quite a shock. And yet, it all points to the undeniable fact that life is dynamic and continually evolving. Whether it is unfolding right now according to our carefully laid out plans and endeavors like a cruise ship that pulls into port for its next scheduled visit, or we are holding on white-knuckled to the mast while the boat is thrown adrift amidst the tumultuous waves of an unexpected storm, the world is indeed turning and time continues to slip by and bring us ever closer to eternity.
This might seem depressing to some, but for those with faith this is a blessed reminder that this is not our permanent dwelling place, but instead a pilgrimage that is unfolding before us. At the clothing ceremony of the young 19 year old young lady who is committing to further discernment concerning her vocation as a religious sister, she chose the nautical theme to represent her journey. She had symbols placed before the altar at her Mass such as a helm of a boat, and a small model ship. Her quote was by St. Therese of Lisieux which wisely stated, "The World is thy ship and not thy home."
Indeed. When we think of Scripture and the theme of boats and water, I think of when Jesus calms the sea. We are told that Jesus instigated this trip by inviting his disciples to cross to the other side of the Sea of Galilee. They followed his lead and set out. We are told that Jesus falls asleep 'in the stern on a cushion', and a great squall endangers the entire boat. "
So
they woke
Him
and
said,
"Teacher,
don't You care
that
we are perishing?"
39
Then Jesus got up and rebuked the wind and the sea. "Silence!" He commanded. "Be still!" And the wind died down, and it was perfectly calm.…" [Mark 4:38-39] In the account told in the Gospel of Luke, the disciples are awestruck and wonder aloud who this might be, who even the elements of the earth obey.
There are a few points to be made here. Jesus often invites us to get into the boat with him and cross over to the other side. You know those moments when you are being asked to radically trust Our Lord, and make a momentous change in your life. One that requires leaving something behind, in order that you can start something anew. Jesus invites us to take risks with him in order to move forward and not to stagnate in our spiritual journeys, but this takes trust. We will undoubtedly meet unexpected storms and tumult as we travel from our point of comfort and departure to new vistas. As noted in this story, Jesus might seemingly appear apathetic or unaware of what is happening, as he is depicted as snoozing on a cushion, extra comfy and unconcerned about anything.
We can surmise that Jesus is completely immersed in the will of His Father, and therefore is at complete rest and experiencing no anxiety. He knows where he is supposed to go and what he is supposed to do, and is thus deeply seeped in that interior place of peace and rest. His relaxed posture shows his omnipotence and authority over the elements of creation and the opportunity to showcase his dominion. But it also highlights something much deeper. In the Song of Songs [5:2],we are told that
"I sleep, but my Heart is awake." Jesus never leaves us orphans, and his heart is stirred to be watchful and attentive to our every need. While it may appear that all is lost and the boat if out of control, He is the one at the helm steering us through the various storms of life into safe harbor.
St. Therese took a unique view of this Gospel account. She wanted to let Jesus sleep, and offer this to Him as a respite from all of his toil and sacrifice on behalf of souls. She recounts that spiritual dryness was with her at all times, but this did not disturb her. "As usual, Jesus slept in my little boat. I know that other souls rarely let him sleep peacefully, and he is so wearied by the advances he is always making that he hastens to take advantage of the rest I offer him. It's likely that as far as I'm concerned, he will stay asleep until the great final retreat of eternity. But that doesn't upset me. It fills me with great joy…" [Story of a Soul].
Regardless of whether we are in the midst of a calm moment on the waters of life or in the midst of a hurricane, Jesus is with us at the helm and continues to beckon us to the other shore where promises await us. Whether we are celebrating high points and joys in life, radical change and commitment, or letting go to journey to eternal life, Jesus leads us there. Let us never forget it, and never try to do it alone. Regardless of whether He is sleeping or steering the ship, we are in good hands. Our captain leads us and His Heart is awake for us.